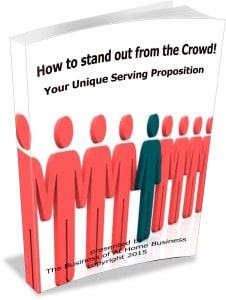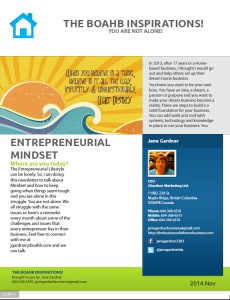 and  a text newsletter –insert below 
Had a look at the Standing Out from the Crowd! book and started working on your unique serving propostion!
For my husband's company, I think his being friendly, quick with the work and willing to discuss changes (not being rigid) and showing an interest in the other person has stood him well in business.
What would you say people say about you? Worth thinking about in our adventure.
Topic of the Day

Are you a born Sales Person?

Are You a Born Sales Person?
It seems as though some people were just born to become a sales person. Would you consider yourself in this category or is becoming a good sales person something that you are struggling with?
Your first email will have the download link for "Stand Out from the Crowd" and then a weekly newsletter about Business Topics and the BOAHB INSPIRATIONS will be about Entrepreneurial mindset and topics as a download link on a biweekly basis. 
Enjoy and feel free to ask any questions to  jgardner@boahb.com. 
To your Success, 
Jane Gardner 
11902 229 St. 
Maple Ridge, B.C. Canada, V2x6p8.