I have my HomeBizStartupTV weekly digest up on iTunes subscribe now!

Have you dreamt of firing your boss and starting a business of your own from home?
This weekly show for the new online business owner provides information on marketing skills, tips and actionable strategies to start and grow your own home business. Learn sales training, customer support and online marketing , internet systems setup, free software and tools, empowerment strategies and success mindset techniques for the home business entrepreneur. Get your weekly dose of home business mentorship from Jane Gardner, a home business entrepreneur for the past several decades.
Episode 1 – Overview of what will be trained 
Mindset and Messaging
Strategy and Systems
Customer and Selling
Entrepreneur Skills and Free Tools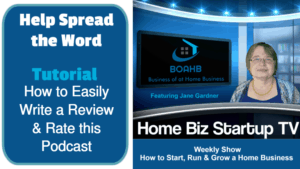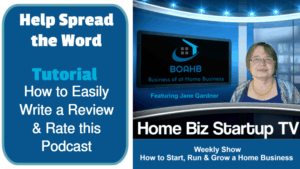 WIDGET for iTunes Podcast Available – Find of the Week
When I created Solopreneur Success Strategies, I didn't find this widget (iframe that you create ) at
But now all a visitor has to do is click on the "View" and they can easily go to your podcast or videocast on iTunes!  Amazing!
According to Apple
With Widget Builder, you can easily add interactive widgets to your website or blog. These widgets allow users to explore music, preview songs, and find albums from iTunes. Users can also discover apps from the App Store—all without leaving your site. 
There are easy instructions and you can build a widget for
for visitors to find your
App
Album
iTunes playlist
Book
TV
Movie
Podcast
and even (of course ) MAC app
HERE is my "View" links for my vlog "HomebizStartupTV" and podcast "Solopreneur Success Strategies" on iTunes!