Communities on The Business of At Home Business Page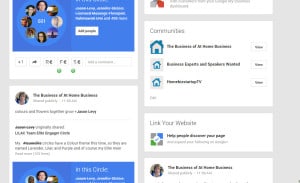 Now, on October 7, 2014, Google has finally turned on the ability to show your Communities on your Business Page.  
What a great way for your interested customers to find you!  
Thanks, Google.  
Now, all i have to do is share my Business page link for anyone wanting to join my Community instead of having to send them a COLD invitation.  
Wow! great idea, Google. 
This is amazing and why didn't Google Plus do it when they started creating Business Pages?  
The ability to show Your Communities you have for your business where clients or customers or members in your community can come in and share and you can showcase your business by sharing your posts inside the community.  
Very targeted community is a benefit of the Community which you can create for your business.  So create a community for your clients right now on "Communities" in your Settings and turn it on on your Business Page or Profile Page. Easier for your potential clients to find.  
A big hug for Google today from me! 🙂